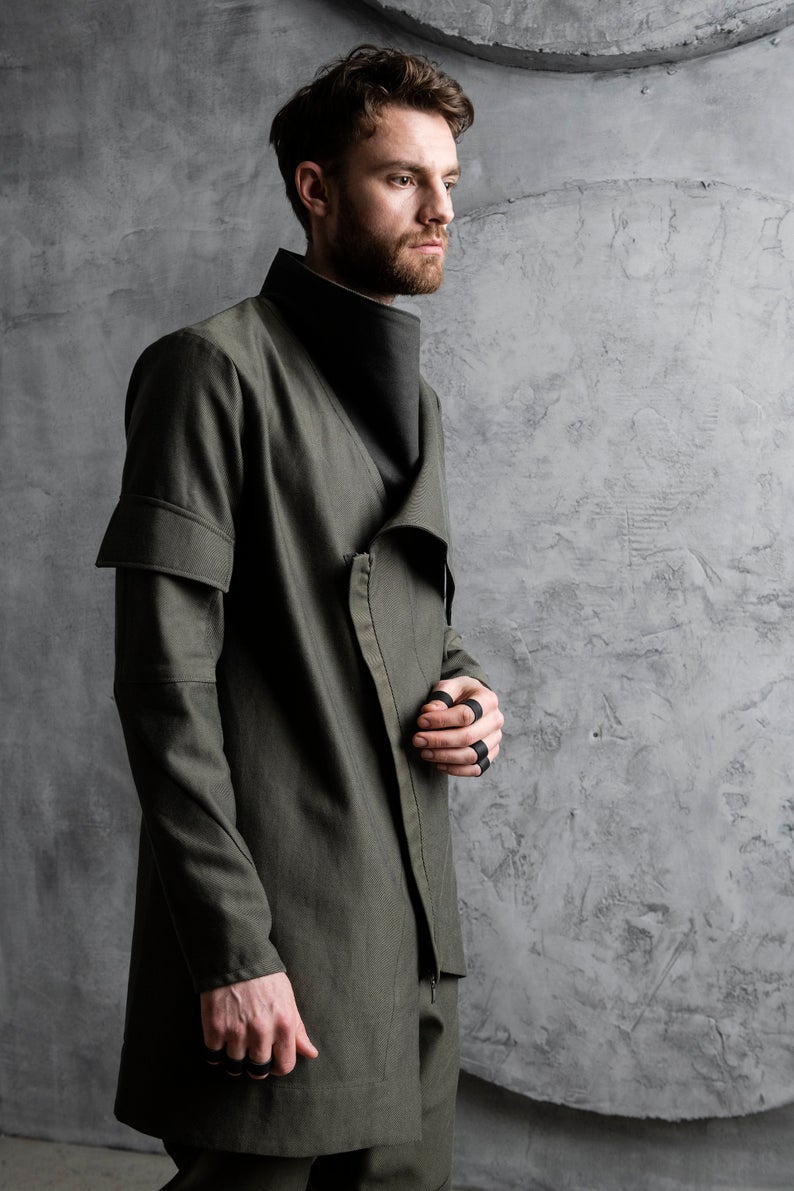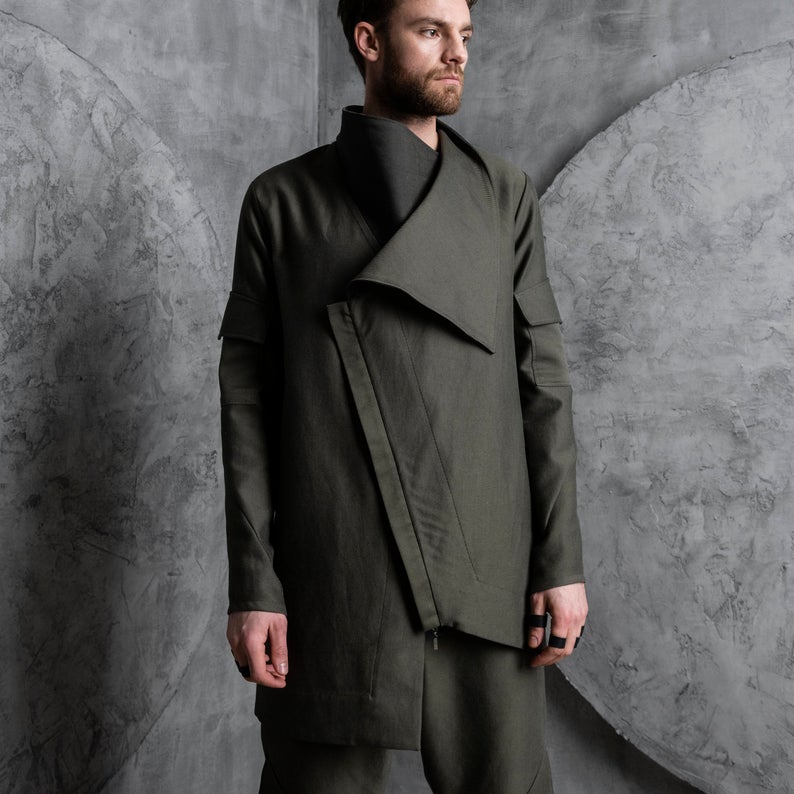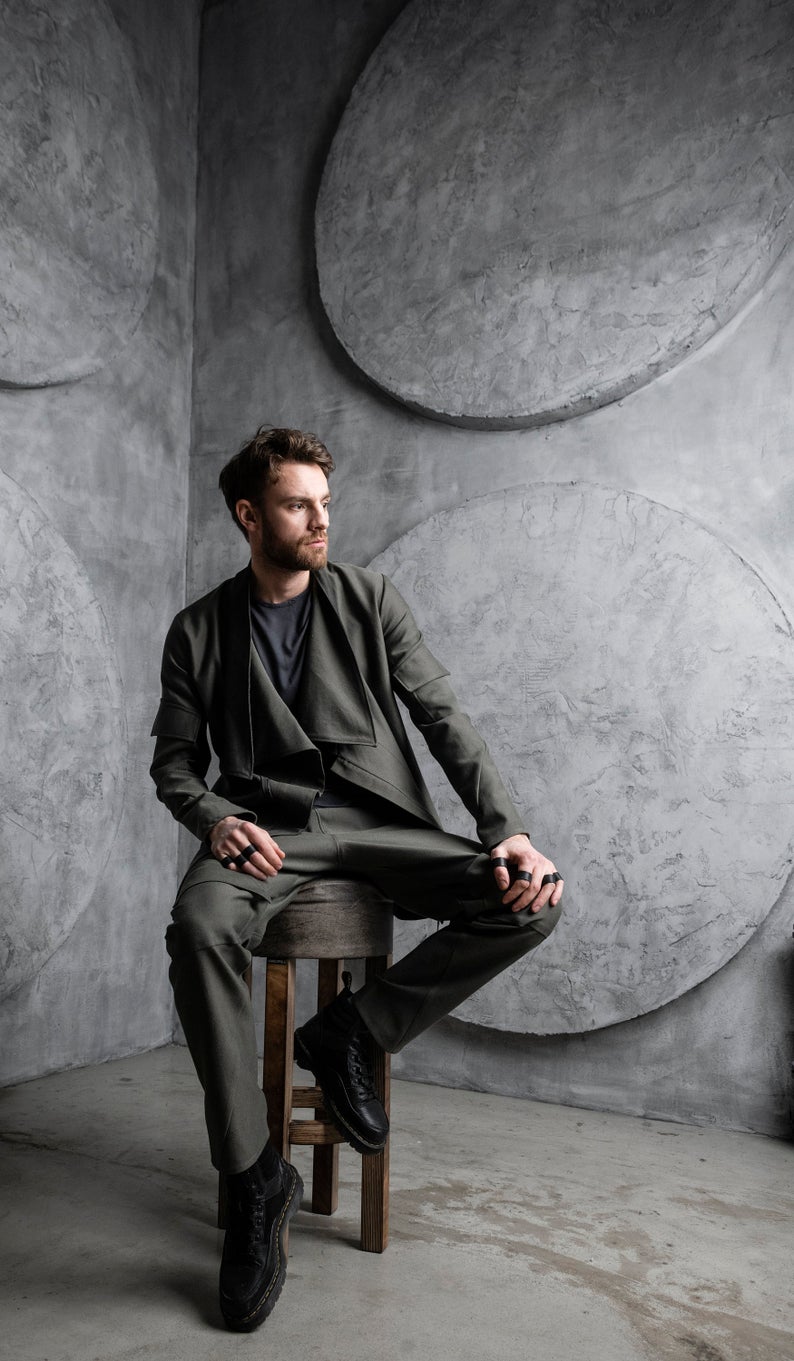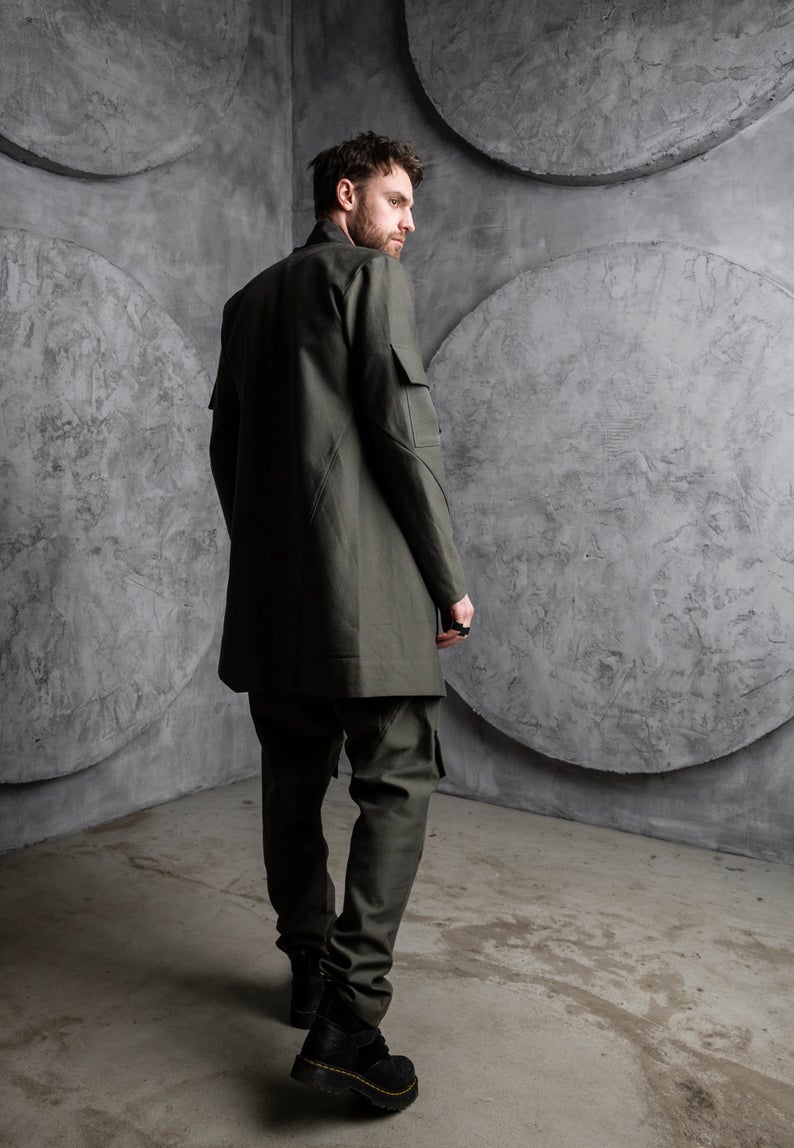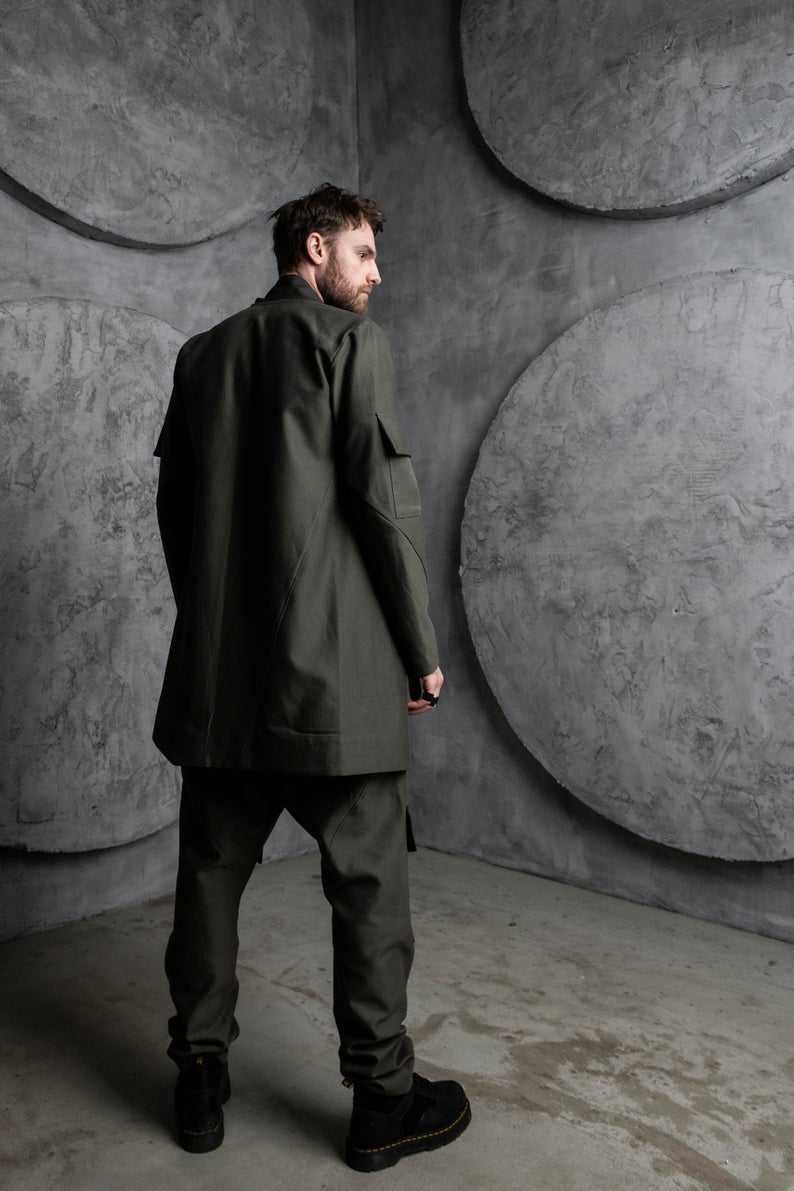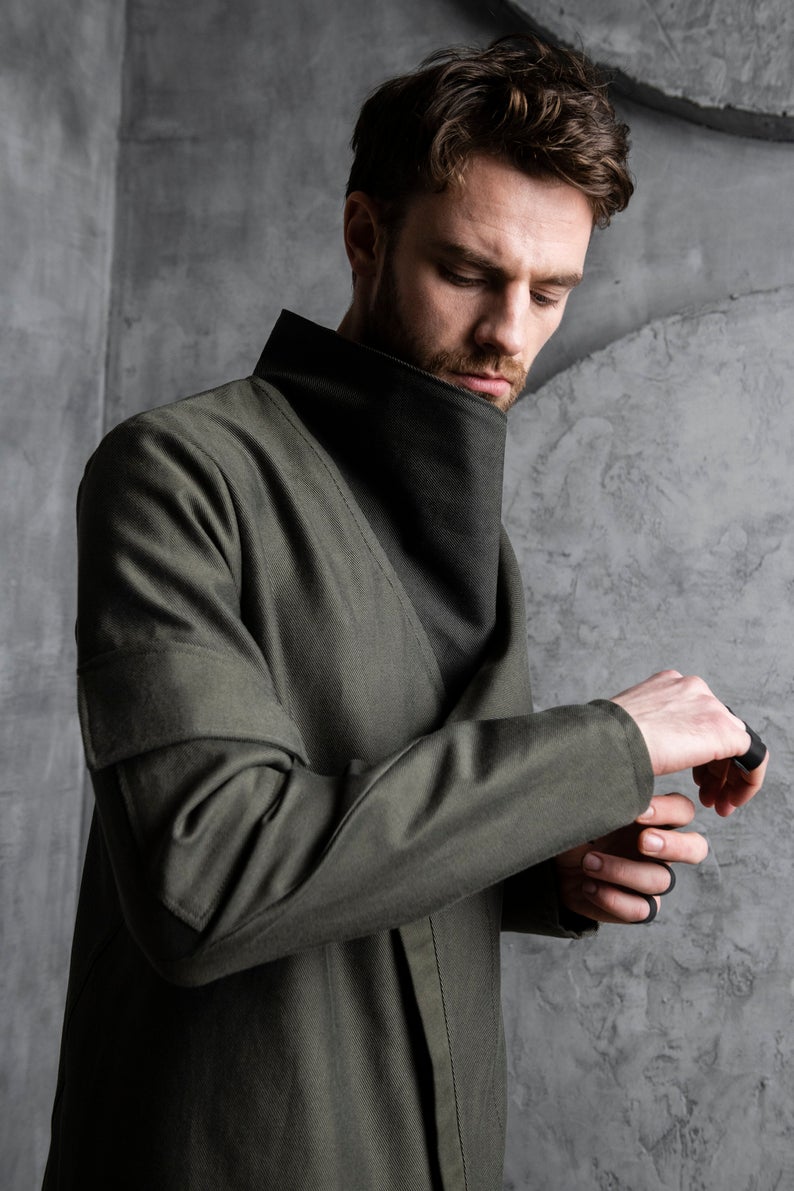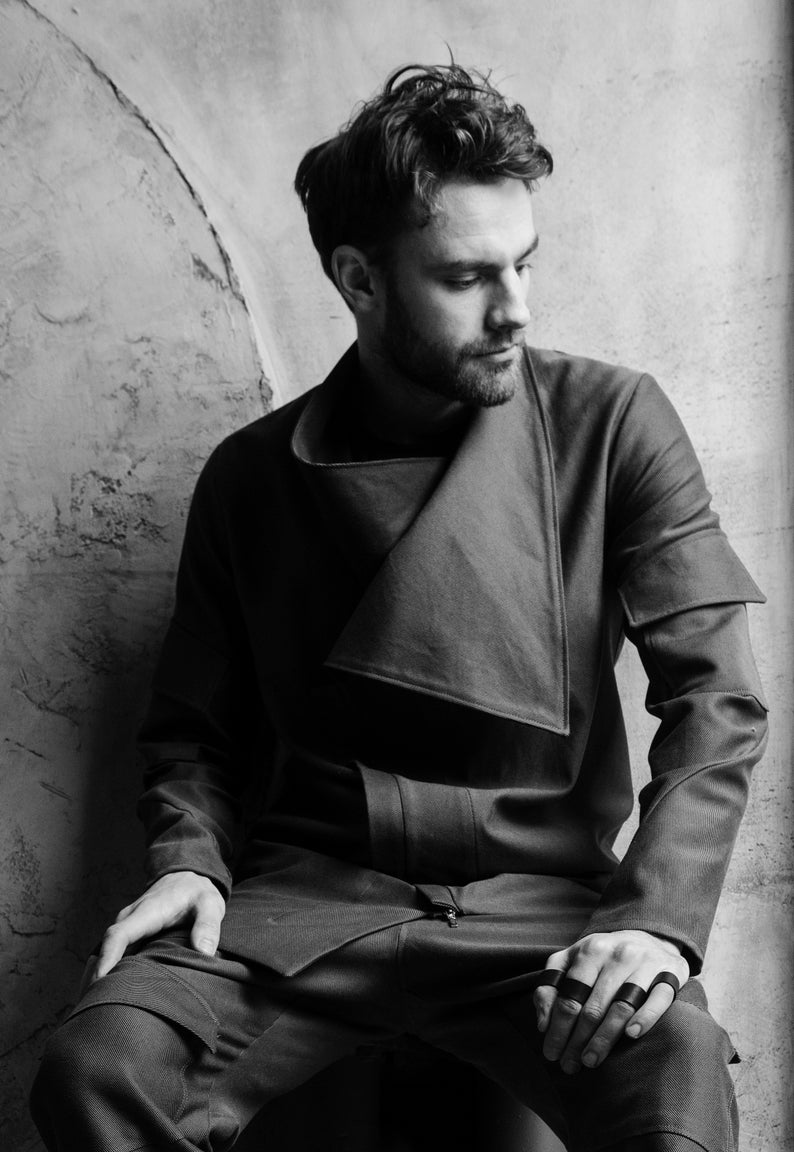 Asymmetric Men's Cardigan in Khaki Wool green Jacket men Cardigan For Men Jedi Cyberpunk Sci-Fi Street Style Cyberpunk Clothing Men
Meet the cyberpunk asymmetric men's cardigan. Extremely comfortable and stylish, this men's jacket guarantees that you're looking and feeling great.

The khaki long jacket radiates your sense of self-confidence, maturity and good taste. The details are taken from Japanese clothing add to your futuristic look.

Expect this wool jacket become your #1, as you can wear it anywhere and feel like home: in the city, at a festival, or in nature.
Add this asymmetric jacket to your casual clothes to get a Jedi look. You can also wear it with your favorite sci-fi clothing or cyberpunk clothing.

Match the street style jacket with these trousers for a seamless look.

This costume can become an unforgettable birthday gift for men.


✧ FABRIC ✧

High-quality fabric
50% wool
50% silk

✧ SIZES ✧

S/ EVRO 36/ Uk 8 / USA 4
Height 164-176 cm / 64.5-69.3'
Bust 94 cm / 37'
Waist 84 cm / 33.1'
Hips 98 cm / 38.6

M/ EVRO 38/ Uk 10 / USA 6
Height 170-183 cm / 67-72.1'
Bust 100 cm / 39.4'
Waist 90 cm / 35,4'
Hips 104 cm / 40.9'

L/ EVRO 40/ Uk 12 / USA 8
Height 176-188 cm / 69.2-74'
Bust 106 cm / 41.7'
Waist 96 cm / 37.8'
Hips 110 cm / 43.3'

Please contact me if you want to purchase size XL and more. We will discuss individual order.

✧ SHIPPING ✧

Usually takes about 5-6 days from the moment of order till shipping. We take this time to produce clothes with your measurements.

International shipping takes 13-21 days. There is an opportunity to send the parcel by express delivery. You can choose an urgent delivery when paying for your purchase.

✧ CARE ✧
Washing Machine, delicate wash, cold temperature.
Weight

8.6kg

Color

Yellow, Brown

Size

S, M, L, XL, XXL

Material

Nylon, Coton